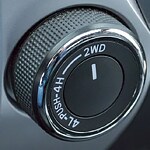 We here at Charlie's Toyota were fans of Toyota Tundra before it got a brand new array of advanced technology features. With its tech features, Tundra delivers even more reasons why it dominates its full-size pickup category. Take the following two tech features for example.
Push Button Engine Start
Who has time to fish around for a key fob? With Toyota's Smart Key System, you can unlock Tundra's doors and start its engine without removing the fob from your pocket or purse. Sensors and microchips within Tundra and the fob communicate, performing a host of classic functions associated with your key fob.
Smart Device Integration
Thanks to Tundra's support of Android Auto and Apple CarPlay, you can now integrate your smart device's functions into Tundra's infotainment platform. From the driver's seat, you can access your messages, send/receive calls, find a place to eat or pull up your favorite playlist, all hands-free.
Take Toyota Tundra for a spin today. Swing by our Augusta dealership for a fun, informative test drive. See you soon.