2014 Toyota 4Runner Introduction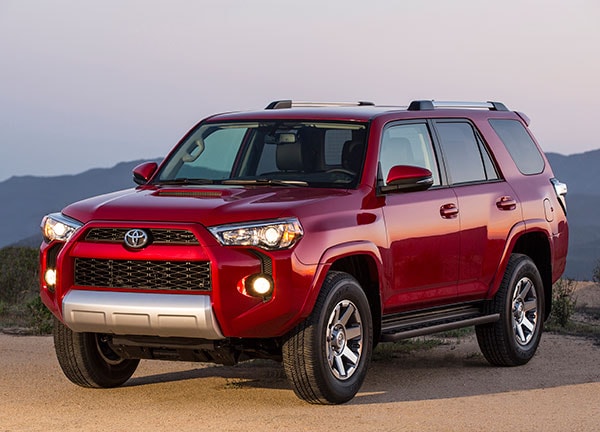 The Toyota 4Runner is built for durability and all-terrain capability. Using rugged body-on-frame construction, the 4Runner is intended to be a tough and reliable sport utility for the more adventurous owner. If you're not towing something or planning on four-wheel drive Toyota's own Venza and Highlander may be better candidates.
For 2014 the 4Runner has added premium versions of the SR5 and Trail models, added a few standard features and repackaged others, and received a new nose, exterior and cabin trim and infotainment systems. A rearview camera and electronic trailer sway control are standard on all 4Runners.
All new 4Runners are powered by a 4.0-liter V6 that generates 270 horsepower and 278 pound-feet of torque, backed by a five-speed automatic transmission. Fuel economy ratings are 17 mpg City, 19 combined and 22/23 mpg (2WD/4WD) Highway. Maximum towing capacity is 4,700 pounds by most recent SAE standards, enough for light boats, ATVs, snowmobiles, and motorcycles.
Most versions offer a three-row seating configuration for seven passengers and most offer a choice of rear or four driven wheels. Rear-seat room is tighter than average for many three-row utes, while cargo capacity is on the large side.
The 2014 Toyota 4Runner comes in three distinct models, each with specialized equipment packages, to suit a variety of luxury, recreational capability, and affordability priorities. All are sturdily built, with an extensive suite of safety features, flexible seating, and multiple cargo options.
The 4Runner SR5 is the standard grade with cloth upholstery, automatic air conditioning, and 17-inch wheels, while the Limited is loaded with leather, dual-zone climate control, and 20-inch wheels. The mid-range Trail Edition is designed to maximize off-road performance with superior approach and departure angles, high ground clearance, and an array of functional upgrades for the most demanding active outdoor enthusiast.
We found the 4Runner has good on-road dynamics with rack-and-pinion steering and well-proportioned disc brakes. It rides like a civilized pickup truck, smooth enough for a road trip. But the key point here is that the 4Runner is far more capable and much more durable for use on rough terrain, like a road trip without the road.
With genuine sport-utility vehicles a shrinking market the 4Runner's principal competition comes from Toyota's own FJ Cruiser (less versatile, less family friendly, difficult to see out of), the Jeep Wrangler Unlimited (more choices, open top, less expensive, less refined, less efficient) and the Nissan Xterra (choice of transmissions, better power-to-weight, lower EPA, smaller cargo, less expensive). None of those offer a third row of seats.