2014 Toyota Avalon Introduction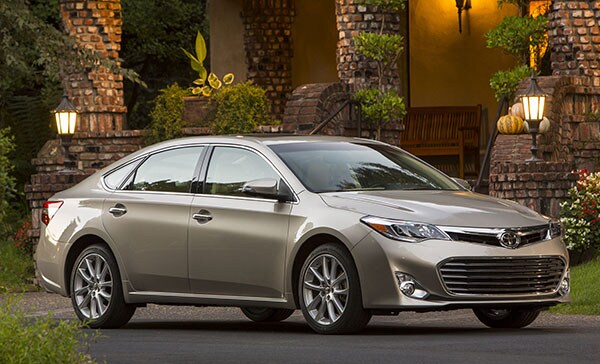 The Toyota Avalon was completely redesigned for the 2013 model year, offering more responsive handling while maintaining excellent ride quality. A smooth, powerful V6 engine comes standard, while a hybrid gas-electric powertrain is optional for better fuel economy and extremely low emissions. The Avalon is fairly easy to operate, and the standard leather interior is comfortable and attractive. It's very easy to live with.
The Avalon is designed in Southern California, engineered in Detroit, and built at Toyota's plant in Georgetown, Kentucky. It's the most American-made car that Toyota has ever offered.
With Toyota being known for vanilla design, the striking Avalon is almost shocking. But it's precisely what Toyota's top executive, President Akio Toyoda, the grandson of the founder, had in mind when he promised to pump new passion into the brand.
The Avalon has an expensive look and feel, muscular and refined, with styling you might expect from the latest Ford or Hyundai. The profile could be mistaken for a Ford Fusion, or the coupe-like roofline for an Audi A7. The interior boasts a near-luxury level of refinement, including hand-stitched leather. The large touchscreen adapts the latest version of Toyota's EnTune infotainment system, and the LCD screen atop the center stack replaces many knobs and buttons.
Avalon is available with two powertrains, mainly the 3.5-liter, 90-degree V6 engine with Variable Valve Timing with Intelligence that produces 268 horsepower at 6200 rpm and 248 pound-feet of torque. It delivers excellent fuel economy for its horsepower and 3400-plus pounds, EPA rated at 21/31 city/highway mpg. Toyota says it does 0 to 60 mph in 6.7 seconds, quite quick. It's smooth getting there.
The Avalon Hybrid will draw buyers wanting the best fuel mileage they can get in a big sedan. It uses a four-cylinder engine and an electric motor that make a combined 200 horsepower. It uses the latest Toyota Hybrid Synergy Drive, and is EPA rated at 40 combined mpg, eye-popping numbers for a full-size sedan. It accelerates from 0 to 60 mph in around 8 seconds, quite decent. Avalon is the first full-size Toyota sedan to offer a hybrid gas-electric powertrain.