2014 Toyota Corolla Introduction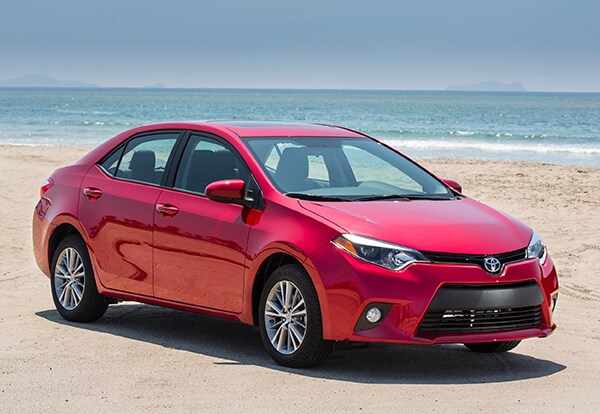 Americans love winners, and Toyota Corolla is undeniably one of these, having been the world's most popular compact for a very long time. Starting out in 1966 as a go-kart-sized compact, 47 years later, it is starting into its 11th generation following the first redesign since 2008. Toyota Corolla has evolved into a highly practical small sedan adequate for starter families.
The 2014 Toyota Corolla continues this line's inch-by-inch growth streak, fulfilling every carmaker's fond dream of being longer, lower, and wider. Compared to the previous model, the 2014 Corolla is 2.6 inches longer, with a noticeably increased wheelbase of 3.9 inches. It is almost half an inch wider and 0.4-inch lower.
This 11th-generation Toyota Corolla definitely looks new. The 2014 Corolla is more stylish than last year's model, and more attractive.
Inside are practical improvements in interior space and comfort. Rear-seat legroom has been increased by five inches over last year's model and the back seats are exemplary, making the Corolla a comfortable sedan for four adults. The front seats are excellent, comfortable and supportive. The instruments are first rate, though we were put off by the massive black dash. There's more trunk space than before.
There are also useful improvements in over-the-road handling and stability.
Despite carrying over unchanged (with one new and interesting exception) the same line of 1.8-liter inline-4 engines as used in the 2013 models, the 2014 Corolla line achieves an incremental improvement, albeit small, in EPA fuel mileage figures across its entire line. Also, the Corolla LE Eco model, with its new Valvematic system, achieves an EPA-certified 42-mpg Highway rating, highest among gas-powered compacts using an automatic transmission.
But every improvement, large or small, is crucial to maintaining a lead position in the red-hot compact-car marketplace. With intense competition coming from Honda, Hyundai, Kia, Subaru, and the new compacts from Detroit, Toyota will rely heavily on its longstanding reputation for building compact cars that are affordable, of good quality, and above all, extremely reliable. Since its introduction, Toyota has sold 40 million Corollas worldwide, with sales showing no signs of slowing. The mother company has rarely shown any sign of being flashy or trendy, choosing instead the road of reliability and dependability. The 11th-generation Corolla faithfully follows that formula, providing few surprises, and just as surely, exceedingly few annoyances, an important consideration in an affordable commuter and errand runner.