2014 Toyota FJ Cruiser Introduction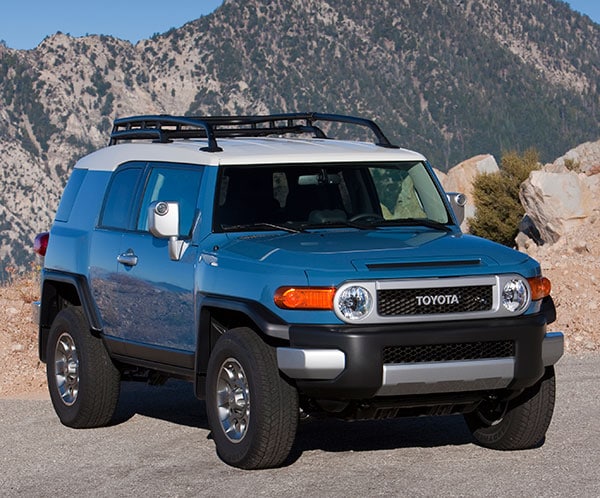 If you want one of these you had better hurry because they are being discontinued.
The Toyota FJ Cruiser is the most capable of all Toyotas when the pavement gives way to gravel, sand and rocks. That's saying something, given the capabilities of the 4Runner, Land Cruiser, and Tacoma. All of these Toyotas are among the best in their respective classes for travel over rugged terrain.
The FJ Cruiser seats five. The front doors are front-hinged. Rear-hinged rear side doors provide access to the back seat. Main access to the cargo area is through a door hinged on the driver's side of the vehicle instead of a typical roof-hinged hatch-style closure. Having the hinge on the driver's side makes curbside loading and unloading easier.
Retro styling gives the FJ Cruiser presence. Designed in California, the FJ Cruiser recalls the Toyota FJ40, known in North America as the original Land Cruiser. The FJ Cruiser will not be mistaken for anything else. Short overhangs aid capability for traversing ditches and other terrain that challenges ground clearance.
The rugged, minimalist interior is easy to clean. No leather here, rugged fabric is designed to resist dirt and water.
An Off-Road package further enhances the FJ's capabilities with trail-tuned Bilstein shock absorbers and a rear differential lock that works in conjunction with Toyota's A-TRAC off-road traction control system. With this setup, the FJ Cruiser can hang with the Jeep Wrangler crowd.
Toyota's 4.0-liter V6 engine makes 260 horsepower and 271 pound-feet of torque. It has dual Variable Valve Timing with intelligence (VVT-i), which means variable valve timing for both intake and exhaust. We found the FJ Cruiser superb in rugged terrain yet comfortable on the road. Its V6 engine delivers more than ample power and torque for any foreseeable situation.
Fuel economy for the 2014 Toyota FJ Cruiser is an EPA-estimated 17/21 mpg City/Highway for a 4WD automatic, 15/19 mpg for a 4WD with 6-speed manual gearbox, and 17/22 mpg for a 2WD automatic.
The full-time 4×4 with the manual transmission offers the best capability in rugged terrain.
The 2014 model year brings only minor changes to the content of some option packages; and a new color, Cement, replacing Cavalry Blue. We don't expect any significant changes to the FJ Cruiser anytime soon.