2014 Toyota Highlander Introduction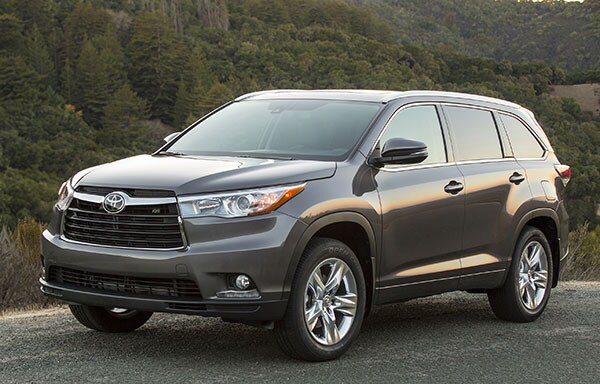 The Toyota Highlander is completely redesigned for the 2014 model year. A three-row crossover sport-utility vehicle, Highlander has seats for seven or eight assuming at least a couple are kids, decent cargo space and variety of versions from base four-cylinder frugal to a Limited Platinum Hybrid.
Outside, the 2014 Toyota Highlander is longer, wider and lower than pre-2014 models; inside, it is redesigned. The 2014 Highlander features familiar engines and a 6-speed automatic transmission for the V6 models. Most components underneath have been notably updated for the 2014 model year.
Toyota family resemblance is found on the nose and tail, more masculine than the cars and vans, not as macho as the trucks and 4Runner. The new cabin gets the layer-cake dash of recent Toyotas and a three-child third-row seat; some offer a three-person middle row, some a two-seat arrangement; Highlander XLE offers the choice of each. All rear seats fold in sections. Cargo area is up slightly for model year 2014.
A four-cylinder front-wheel-drive model is the base 2014 Highlander. A 2014 Highlander Hybrid all-wheel-drive model is the other extreme, which rates an EPA-estimated 27/28 miles per gallon City/Highway. In between, the 2014 Highlander LE, LE Plus, XLE, and Limited all use a 270-horsepower V6 engine and offer the choice of front- or all-wheel drive. When equipped with the V6 towing package a Highlander is rated to tow 5000 pounds.
The top models are loaded with features but even base models come with front and rear air conditioning, alloy wheels, Bluetooth, USB, iPod connectivity, reclining second- and third-row seats, driver knee airbag, and a rearview camera. However, the latest safety features such blind-spot warning, rear park assist, lane departure warning and dynamic radar cruise control with collision mitigation braking require upgrading to the top models.
When the Highlander originally debuted, competitors such as the Ford Explorer and Dodge Durango were based on trucks while others had not yet appeared. Today, the Toyota Highlander competes with Explorer and Durango, Kia Sorento, Hyundai Santa Fe, Nissan Pathfinder, Chevy Traverse, Honda Pilot, GMC Acadia, Mazda CX-9, ad infinitum. If driving dynamics are a priority we recommending leaning to the Mazda CX-9 or Dodge Durango, for speed the Durango Hemi and Explorer 3.5 turbo, for efficiency the Honda Pilot or Nissan Pathfinder Hybrid. Only the Pilot and GM twins offer seating for eight. Alternatively, if people and cargo space are more important than looks, a loaded Toyota Sienna van gives up one mpg to the Highlander (Sienna offers all-wheel drive but no hybrid), but brings much more passenger room, twice the cargo capacity and doesn't cost any more when similarly equipped, and Sienna has some options even a Highlander doesn't.