2015 Toyota 4Runner Introduction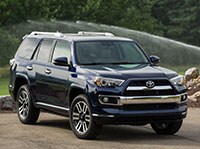 The sturdy Toyota 4Runner is built for durability and all-terrain capability. Using rugged body-on-frame construction, the 4Runner is intended to be a tough and reliable sport utility for the more adventurous owner. In 2014 the 4Runner got a new nose and body parts, along with upgrades to cabin trim and infotainment. The 2015 changes are few, except for the addition with much fanfare of the TRD Pro model that Toyota says is aimed squarely at extreme offroading enthusiasts who push their trucks and SUVs to the limit. We didn't push the TRD Pro to the limit, but we did get some seat time in a Pacific Northwest forest.
The 4×4 TRD Pro ($41,310) comes with fat Bilstein dampers with remote reservoirs, a big black grille, 17 black alloy wheels, 31.5-inch-tall tires called Terra Grappler, a vented aluminum front skid plate, black fabric seats with red stitching, TRD floor mats and shift knob, and TRD badging outside (black) and inside. It comes in black, white, or a new burnt orange color called Inferno.
If you don't tow and don't need serious four-wheel drive, just all-wheel drive for snow and ice, Toyota's Venza or Highlander might fit better. The Highlander offers similar room and fuel mileage but is quicker and rides better.
The 4Runner is powered by a 4.0-liter V6 that makes 270 horsepower and 278 pound-feet of torque, backed by a five-speed automatic transmission. Fuel economy ratings are 17 mpg City, 19 combined and 22/23 mpg (2WD/4WD) Highway. Maximum towing capacity is 4,700 pounds by most recent SAE standards, enough for light boats, ATVs, snowmobiles, and motorcycles. Rearview camera and electronic trailer sway control are standard.
The 4Runner comes in distinct models equipped for lifestyle needs–luxury, sport or economy, in rear-wheel drive or four driven wheels. The standard safety features are extensive, the seating and cargo spaces are flexible, including 3 rows for 7 passengers.
The base SR5 comes with fabric upholstery, automatic air conditioning, and 17-inch wheels. The Trail Edition has increased approach and departure angles at the front and rear bumpers, high ground clearance, and other features for the outdoor and offroad enthusiast.
The Limited is loaded with leather, cabin comforts, and 20-inch wheels.
The 4Runner has good dynamics, resulting in good behavior on the road. There's rack-and-pinion steering and big-enough disc brakes. It rides smooth and civilized on a road trip, while being ready for an offroad trip.
There are few body-on-frame SUVs left. There is the Toyota FJ Cruiser, far less family-friendly; the Jeep Wrangler Unlimited (more choices, open top, less expensive, less refined, less efficient); and the Nissan Xterra (choice of transmissions, better power-to-weight, lower EPA, smaller cargo, less expensive). None of those offer a third row of seats, as the 4Runner does.