2015 Toyota Tundra Introduction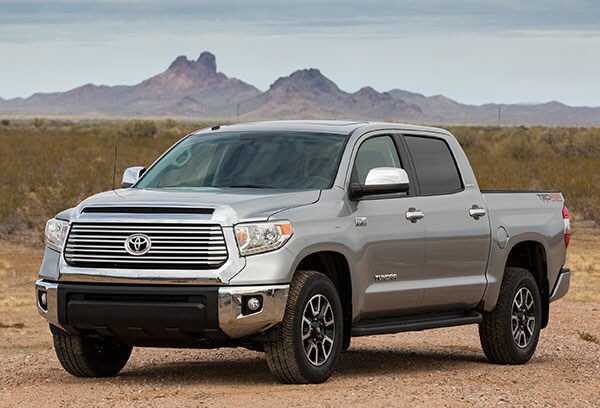 The Toyota Tundra is a full-size pickup, with good work capability and durability, that comes in three cabs, three bed sizes, and five trim levels. With 2WD and 4WD, there are no less than 42 models of Tundra. The Tundra is pretty much an all-American vehicle. It was designed in California and Michigan, its engines are assembled in Alabama, its transmissions built in North Carolina, and it rolls off a Texas plant.
For 2015, Tundra offers a choice of two V8s with the same 6-speed automatic. (The V6 engine was dropped.) Much of the sheetmetal and interior was new in 2014, so there are no changes for 2015, except the introduction of the 2015 Tundra TRD Pro model, with its own suspension and touches to the body and interior. It's a 4×4 for serious off-roaders.
Toyota is re-marketing TRD (Toyota Racing Development) around the new Pro Series, starting with Tundra, Tacoma, and 4Runner. The TRD Pro is more than bolt-on parts; it has its own off-road suspension geometry with fat Bilstein dampers, tuned stainless twin exhaust, unique interior color, 32-inch-tall Michelin offroad tires, black 18-inch alloy wheels, TRD trim and badging, and more. Toyota has been off-road racing for three decades and has more than 300 victories; so with the TRD Pro Series re-branding the brand, it's like a double-down.
In fact, the Tundra TRD Pro won its class in the Baja 1000 in November 2014, finishing first in the full size stock truck class, with pro drivers and a team of six Tundra engineers riding shotgun as navigator or mechanic. After the race they turned around and drove it on the road 1000 miles back to Ensenada where they started.
The basic Tundra two-door Regular Cab comes in entry-level trim levels with only the 8-foot bed. The Double Cab has four doors and seats five or six, depending on the front seat, and comes with 6.5- or 8-foot beds. The big CrewMax seats the same with more room, and comes with a 5.5-foot bed and vertically sliding rear window. The TRD Pro is available in Double Cab or CrewMax 4×4 cab types, but not Regular Cab for those most serious off-roaders, who say they don't need no stinkin' back seats.
Tundra is among the largest of half-ton trucks. It's stable and comfortable, including the rear seats, and tows beautifully. The smaller 4.6-liter dohc V8 with an aluminum block is rated at 310 horsepower, 327 pound-feet of torque at 3400 rpm, and EPA ratings of 15/20 mpg City/Highway, one mpg less with 4WD. It also the same 6-speed automatic transmission as the bigger engine. The 4.6-liter is a good choice for drivers who want the oomph of a V8 but don't do a lot of towing.
Tundra's double overhead-cam 5.7-liter V8, also with an aluminum block, is rated at 381 horsepower and 401 pound-feet of torque, mated to that 6-speed automatic transmission. It's a good truck engine, with EPA ratings of 14/18 mpg City/Highway, one mpg less with 4WD. Some competitors offer more horsepower or torque, while others offer better fuel mileage by 1 or 2 mpg. We like the Tundra's balance of power, economy, cargo and towing.
We towed a 20-foot enclosed car trailer over long distances, with ease. Towing capacities top 10,000 pounds on some models equipped with the available tow package, and maximum payload ratings exceed 2,000 pounds.
The 5.7-liter Toyota Tundra comes with a 4.30:1 final drive ratio with a 10.5 ring gear, the largest ring gear in the segment. Because of the engine torque, the transmission 3.33 1st gear ratio, and the 4.30 rear end ratio, this Tundra produces a blockbusting 5,742 foot-pounds of torque (401 x 3.33 x 4.30) at the drive wheels, and that's without any gear reduction from the transfer case on 4X4 models.
Standard equipment in all Tundras includes the touchscreen, CD player, iPod integration and Bluetooth. Infotainment increases with the model, including SiriusXM satellite radio, HD radio, subscription-free weather and traffic (where HD radio is supported in urban areas, through your smartphone cellular data outside those regions), GraceNote art, expanded voiced recognition including compound commands, navigation, predictive traffic, radio buffer that lets you pause up to 20 minutes of AM/FM/HD radio for later playback, Entune App Suite (Bing, Pandora, Open Table, Facebook Places, Yelp and more) and a 440-watt JBL sound system.