2016 Toyota Highlander Introduction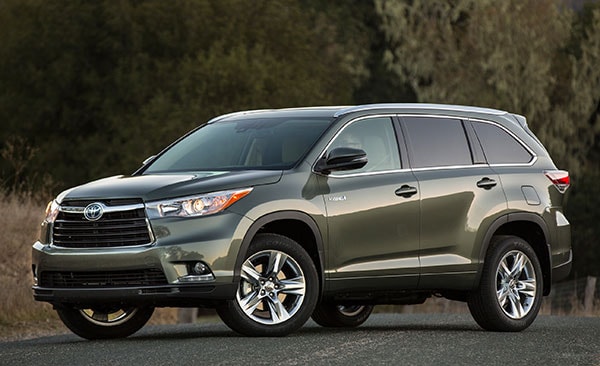 The Toyota Highlander is a midsize crossover SUV that delivers versatility, comfort and practicality, including three-row seating. All-wheel drive is available for wintry weather.
Highlander is among the best in its class in terms of comfort and frugality. In addition to flexible second-row seating, it offers relatively free access to the third row. In terms of being stylish, rewarding to drive, or offering rugged off-road capability, well, not so much.
Last redesigned for 2014, there are no significant changes for the 2016 Highlander.
It might look a bit more rugged than its predecessors, but the Highlander is technically closer to Toyota passenger cars than to any rugged SUV. The Highlander is more civilized and family-friendly than a 4Runner, and it's roomier than a RAV4. If you want a rugged SUV, get a 4Runner.
For more appealing fuel-economy estimates, the Highlander Hybrid remains available. Otherwise, both four-cylinder and V6 gasoline versions suit most family requirements.
Most Highlander models come with the 3.5-liter V6, developing 270 horsepower and 248 pound-feet of torque. Available with front- or all-wheel drive, Highlanders use a 6-speed automatic transmission. In addition to smooth-running and reasonably strong responses, the V6 is more fuel-efficient than expected. For 2016, all V6 models include a towing package, for 5,000-pound capability.
The 2.7-liter four-cylinder, making 185 horsepower in price-leading Highlander LE models, performs adequately with a mild load. Pack in the whole family, though, and it's overtaxed.
Highlander Hybrid models team the V6 with a continuously variable transmission (eCVT) and all-wheel drive, for 280 horsepower total output. Because they're some 350 pounds heavier, Highlander Hybrids accelerate relatively slowly. Hybrids come only in top Limited or Limited Platinum trim.
Fuel economy isn't a plus. Even the four-cylinder RAV4 is EPA-rated at only 20/25 mpg City/Highway. The V6 is EPA-rated at 19/25 mpg City/Highway with front-wheel drive, 18/24 mpg with all-wheel drive. Highlander Hybrid is EPA-rated at 27/28 mpg City/Highway, but it isn't likely to reach those figures unless driven mildly.
The Highlander is reasonably agile and electric power steering is standard. The cabin is not noisy. The Highlander XLE has an innovative feature called Driver Easy Speak that uses a microphone to transmit front-seat voices to back-seat riders.
In National Highway Traffic Safety Administration crash-testing, Toyota Highlander got a five-star overall score: four stars for frontal crash and rollover testing, but five stars in side-impact. The Insurance Institute for Highway Safety calls Highlander a Top Safety Pick +, having earned mostly Good ratings, though only Acceptable on its new small-overlap test. Among Toyota's safety options are blind-spot monitors, a lane-departure warning, and parking sensors. A Driver Technology Package bundles pre-collision warning and adaptive cruise control.