2016 Toyota Land Cruiser Introduction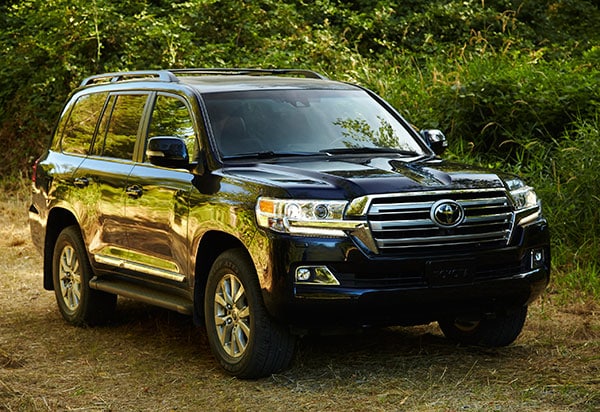 The Toyota Land Cruiser is getting long in the tooth, but it remains the real deal. It's no crossover-car masquerading as a rugged vehicle. A Land Cruiser is for offroad adventures, and don't use it for that you're wasting your money. It might be the perfect vehicle for crossing the Outback, but it's overkill for crossing America on Interstate 90, or even taking the family to the Outer Banks on vacation.
Not that it doesn't work as an on-road luxury SUV. For a family of eight with three little ones that doesn't want a minivan, the Land Cruiser is a reasonable choice. It looks like a luxury SUV, not a rugged off-roader, even though it is. For mere urban needs, you get the about same utility from the far less expensive Toyota Sequoia. With its off-road capability combined with luxury, the Land Cruiser is more comparable to the fancier Lexus LX 570 or Range Rover.
Despite a sophisticated suspension, the ride can be choppy on a bumpy highway, although it's smoother with eight passengers because of the weight.
A big 5.7-liter V8 making 381 horsepower drives this massive 5700-pound truck with body-on-frame construction. The Land Cruiser is equipped with trailer sway control and is rated to tow up to 8100 pounds, though we'd opt for a heavy-duty pickup for any trailer approaching that weight. Four-wheel drive with a locking differential is standard, along with a sturdy suspension.
For 2016, the Land Cruiser engine gets paired to a new 8-speed automatic transmission. The powertrain accelerates smoothly and competently. Fuel economy is an EPA-rated 13/18/15 City/Highway/Combined.
Because of the small numbers of Land Cruisers, the NHTSA hasn't gone to the expense of crash-testing it. But you know it's a tank, and your worries about coming out the loser in a crash with a responsible small car are few. Plus, standard safety features include 10 airbags, active headrests, rearview camera, parking sensors, and Toyota's Pre-Collision System, which tightens the belts if sensors see a crash coming. For 2016 there's a new suite of active safety features, including automatic headllamps, adaptive cruise control, blind-spot monitors with rear cross traffic alerts, lane departure warning, and a forward collision warning system with pedestrian protection that applies the brakes at speeds below 24 miles per hour.