2016 Toyota Prius C Introduction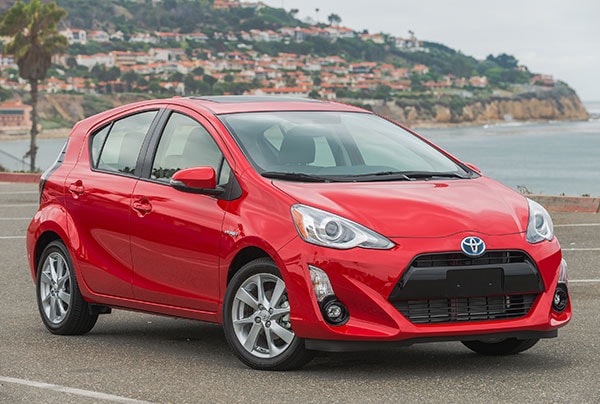 Some hybrid-powertrain cars, including the familiar Toyota Prius Liftback, look different from the gasoline-engine models. Others look essentially the same as a conventional automobile of the similar size and category.
The Toyota Prius c, the smallest and lowest-priced member of the Prius hybrid pack, definitely falls into the latter category. When they look at a Prius c, most people won't realize they're looking at a hybrid, especially when viewed from the side.
Even after some styling and interior upgrades for 2015, the Prius c subcompact hatchback doesn't stand out in a crowd, unless the drivers in that crowd happen to be exchanging gas-mileage numbers. Roomier inside than you might expect, this happy little hatchback is EPA-rated at a miserly 53/46 mpg City/Highway, or 50 mpg Combined.
Only one significant change for the 2016 model year: Toyota has added a Safety Sense-C group of electronic active-safety systems. Included are lane-departure assist, pre-collision braking, and automatic high beams.
Also for 2016, Toyota is offering a new version: a limited-edition Prius c Persona Series. Only 1,500 will be built.
Officially considered a subcompact, the Prius c is actually longer than many entrants in that size segment. Interior volume stemming from those exterior dimensions makes the Prius c truly capable of seating four adults. Assembly quality has been good, too.
Under the hood of the tiniest Prius, its 1.5-liter four-cylinder engine produces a modest 73 horsepower, coupled to a more compact hybrid-powertrain system than the one used by the two larger Prius models. Working together, the gas engine and twin motor-generators have a combined output of 99 horsepower. Engineers even managed to position both the 0.9 kWh lithium-ion battery pack and the gasoline tank below the back seat.
The Insurance Institute for Highway Safety gives the 2016 Prius c an Acceptable rating for its rigorous new small-overlap test. The Prius c scored Good on each of the insurance-industry agency's other tests. The federal government's National Highway Traffic Safety Administration gave the 2015 Prius c a four-star score in each of its tests.