2016 Toyota Prius v Introduction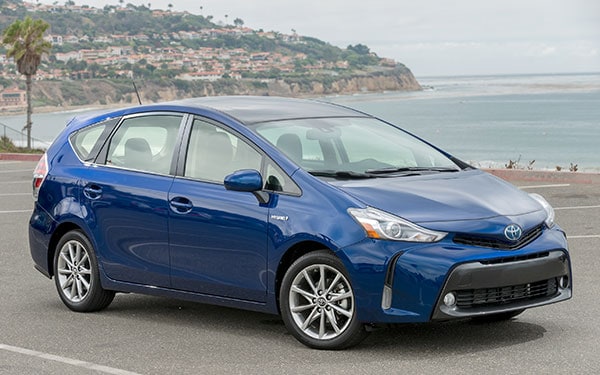 The Prius v wagon carries over to 2016 for its fifth season as a larger, roomier alternative to the more familiar Prius (itself redesigned for 2016). Prius v is a tall wagon that seats five, with versatile cargo space.
Taller and more boxy-looking than a regular Prius, the Prius v exudes practicality, serving as the most family-friendly member of the Prius hybrid group. The battery/gasoline powertrain is unchanged, and it's the same one used in the previous generation of the traditional Prius Liftback.
Despite its tall profile, the Prius v is simply a wagon, not a crossover utility vehicle of any sort. Ground clearance, for one thing, is no greater than a car's. All-wheel drive is not available; like every Prius to date, the Prius v is front-wheel drive.
Only a glance at the Prius and Prius v, side by side is needed to ascertain that the latter is bulkier and heavier. Logically enough, performance is a bit milder and fuel-efficiency trails that of the more familiar Prius.
Prius v is EPA-rated at 44/40 mpg City/Highway, or 42 mpg Combined. That's impressive efficiency considering the wagon's load-carrying merits. After all, the Prius v is a five-passenger wagon that easily holds a family and all its luggage.
Though the Prius v might seem like simply a wagon offshoot of the classic Prius, no body panels are shared between the two. Visual differences are clear. The Prius v is more slab-sided, with a vertical liftgate at the rear. The regular Prius Liftback has a sloping roofline leading to a horizontally-oriented liftgate.
The Insurance Institute for Highway Safety gave the 2015 Prius v wagon Good scores on each crash-test it conducted.