2016 Toyota Prius Introduction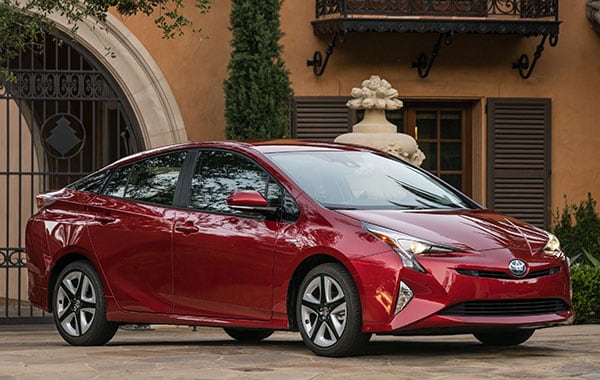 All-new for 2016, Toyota Prius begins its fourth generation. Toyota's most prominent hybrid-powertrain vehicle has been fully redesigned for the 2016 model year. Part of Toyota's lineup since 2001, the Prius has changed significantly in both appearance and driving characteristics.
Still easily recognizable as a Prius, the five-door hatchback features a steeply angled windshield, while the nose has been lowered and the rear end raised, now ending with a spoiler. Measuring 2.4 inches longer than before, the 2016 Prius is nearly an inch lower, maintaining its sloping roofline. Not everyone may swoon over the new look, especially at the rear. Taller folks may find headroom tight in the back seat.
Minimizing fuel usage has been Toyota's primary goal with every Prius version, and they've succeeded once again. The latest Prius still ranks as the most fuel-efficient car on the U.S. market, with the sole exception of those that plug into an electrical outlet.
EPA fuel economy ratings are 54/50 mpg City/Highway, or 52 mpg Combined, for the base model, called Prius Two, while the Prius Two Eco manages a 56-mpg Combined estimate.
Confusingly, Prius Two is the base model and is the only model with a nickel-metal-hydride battery pack rated 1.2 kilowatt hours. The Prius Two Eco and all other versions move to a 0.75-kWh lithium-ion battery pack. The battery packs reside beneath the back seat.
Toyota claims to have re-engineered every hybrid-system component, to boost efficiency while cutting weight and cost. A revised 1.8-liter four-cylinder gasoline engine makes 95 horsepower and can reach thermal efficiency as high as 40 percent. Working together, the gas engine and electric motors develop 121 horsepower and 105 pound-feet of torque.
In addition to greater passenger space and cargo volume, the 2016 Prius promises improved handling and grip, with a more engaging driving experience.
For 2016, Toyota offers two new Safety Sense suites of active-safety systems for the Prius Three and Prius Four. Safety Sense-C includes a Pre-Collision System with automatic braking, automatic high beams, and Lane Departure Alert, . With Safety Sense-P, the Pre-Collision System operates up to the car's top speed. That group also adds pedestrian detection, adaptive cruise control, and full Lane Departure Correction. Optional Intelligent Park Assist helps a driver parallel-park or back into a right-angle parking space.