2016 Toyota Sequoia Introduction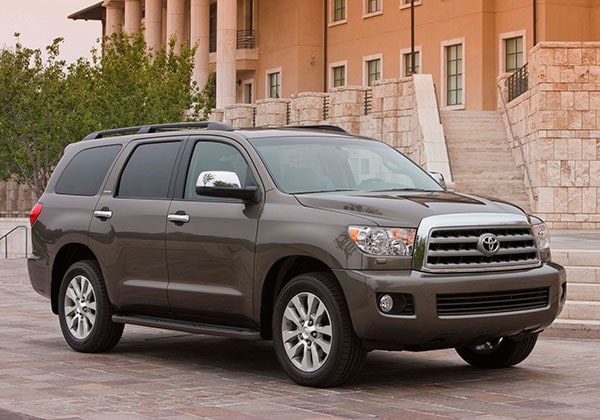 The masculine and rugged Toyota Sequoia full-size SUV is old school, based on the previous-generation Tundra pickup truck, and not easily mistaken for a crossover. It's muscular and well built, not a luxury vehicle but thoughtful, with road noise kept out of the cabin. It uses the same 5.7-liter V8 as the much more expensive and same-sized Toyota Land Cruiser, and does have available four-wheel drive (for winter weather), but it doesn't have the Land Cruiser's offroad capability. The powerful engine makes 381 horsepower and 401 pound-feet of torque, and can accelerate from zero to 60 miles per hour in 6.7 seconds, right quick for such a big SUV.
The Sequoia rides well for a body-on-frame vehicle, and its handling is decent. The four-wheel independent suspension keeps it stable in corners, although rough spots can upset its composure; that's improved in the Platinum model with active variable air suspension. It has a third row, but like all of them it's only realistic for kids. It can tow up to 7400 pounds.
Competition for Sequoia is fierce, including Chevy Tahoe and GMC Yukon, Ford Expedition, and even the Toyota Highlander. Those SUVs have been more recently redesigned, and offer better cabin versatility, comfort, and fuel mileage. The thirsty Sequoia gets an EPA-rated 13/17/15 miles per gallon City/Highway/Combined with rear-wheel drive, and one less combined mpg with four-wheel drive.
The latest Sequoia hasn't been crash tested, but it has a long list of safety features, including standard rearview camera.