2016 Toyota Yaris Introduction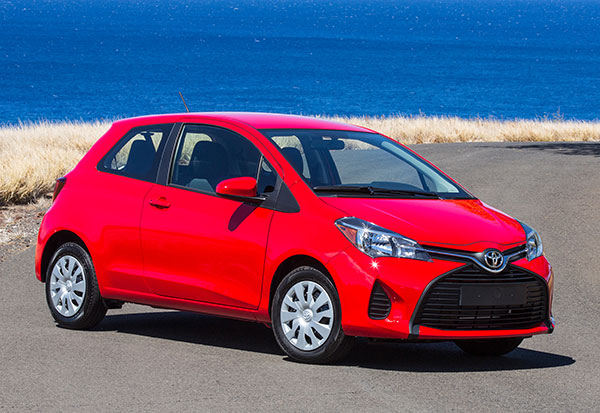 The Toyota Yaris, last redesigned four years ago, is a traditional subcompact hatchback and is Toyota's least expensive U.S. model. Smaller than the compact Corolla, which sells far better, the Yaris is reminiscent of old, basic econoboxes, and it does not stand out. Little has changed for the 2016 model year.
The 2016 Toyota Yaris comes in three-door and five-door hatchback versions, all with the same engine and a choice of automatic or manual transmissions. Yaris is front-wheel drive.
A couple of decades ago, a small engine, low price, and agile maneuverability were sufficient to satisfy budget-conscious commuters. Nowadays, the French-made Yaris goes against strong competitors in the small-car segment, led by the Nissan Versa Note.
Straightforward in shape, the Yaris comes as either a three-door or five-door hatchback. Buyers benefit from Toyota's reputation for reliability, but in several ways the Yaris lags its rivals. First off, an underpowered engine and outmoded drivetrain make the Yaris noisy and sluggish. Fuel economy isn't as frugal as expected, for such a light car. Still, the Toyota has nicer seats than the Nissan, and the Yaris is smooth and quiet. It's functional and convenient as an around-town errand runabout.
The 1.5-liter four-cylinder engine issues a puny 106 horsepower. With the standard 5-speed manual gearbox, performance is generally tepid, though peppier at urban speeds, as long as you shift gears properly.
Worse yet is the optional 4-speed automatic transmission, an anachronism at a time when nearly all subcompact automatics have at least five speeds. Because the gear ratios are widely spaced, each downshift is loud and dramatic. Passing at highway speeds is a leisurely undertaking with either transmission.
Ride comfort is good, and the Yaris is comparatively quiet on the highway, apart from engine noise. Tire and wind sounds are muted.
Front seats are comfortable, suitably sized and supportive, with plenty of headroom. Not so in back, where seats are smaller than in its competitors, including the Nissan Versa Note. Honda Fit, the class leader, also beats the Yaris for cargo space.
Yaris is not among the top choices for safety, with only basic safety features installed. The National Highway Traffic Safety Administration gives Yaris a four-star rating overall, but five stars for side-impact crashes. Except for a Marginal score on the small-overlap frontal crash test, the Insurance Institute for Highway Safety rated Yaris as Good.