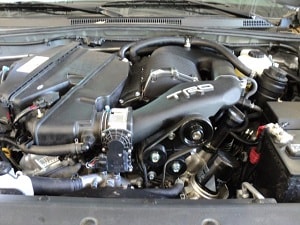 Bob W from Manchester wanted to have some additional power to tow his boat with his Toyota Tacoma. He was interested in installing a supercharger to his engine to get more performance.
We at Charlie's Toyota suggested he purchase the unit and we would assist him with the cost of installation. Bob ordered the unit and Scott Jacques our shop foreman installed the unit and WOW! After Bob drove the newly powered truck he calls back and stated "This is FUN"! He now needs to look behind him to make sure the boat trailer is still attached.
We can install supercharger on some model Toyota products. Contact our parts and service department for pricing and availability today at 622-4748.