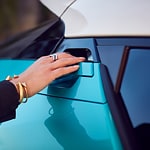 This article reviews all the exterior colors, which are contained in the Toyota car C-HR new model.
In general, there are six different types of colors for the new Toyota C-HR model include Black sand pearl, silver metallic knockout, grey metallic magnet, and blue metallic eclipse. This is among the costly options of the six. The color Blizzard pearl carries an additional amount of $425 and also the color supersonic red. Apart from the colors, a further six two-tone exterior color scheme is made available for the limited type and the XLE. Silver knockout and blue eclipse cost a minimum of $500. These two colors are paired with a black roof. The black sand pearl is paired with a silver metallic dish; this all costs an extra 500 dollars.
Toyota C-HR's new 2020 model has a great combination of colors, which makes it very unique.