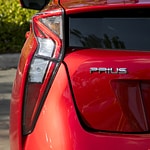 When people think of economic hybrids, they often visualize the Prius hatchback. The vehicle's fuel-efficient features keep the Prius in the top-selling category. The vehicle's also come with a wide array of standard features and more interior space compared to the competition.
The cabin is attractive and well-appointed. Comfortable and supportive seating accommodates up to five tall adults easily. The rear area has 27.4 cubic feet of space that extends to 50.7 cubic feet when folding the rear seats. The infotainment system on our Charlie's Toyota base models has a touchscreen measuring seven inches. The system integrates with smartphones and is compatible with Alexa. But, the system may be upgraded to include an 11.6-inch screen. Bluetooth provides internet access and enables the Prius to act as a personal Wi-Fi hotspot.
New owners might also enjoy having the convenience of automatic climate control and an engine that starts with the push of a button. Add a moonroof to enhance the view.