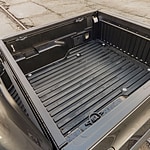 Towing capacity is driven by horsepower, while engine power generation depends on how efficiently a vehicle stabilizes its weight. Performance and towing are greatly dependent on one another, and the Toyota Tacoma excels in both aspects.
The power of a Toyota Tacoma is driven by one of two engine options: a 2.7-liter 4-cylinder or a 3.5-liter V6. Both extremely capable, the V6 performs well when paired with the Tacoma's signature Tow Package. Implementing an automatic transmission, the Toyota Tacoma is undeniably proficient in maintaining power and balancing torque, even when hauling large loads.
This balance of strength and grace is what makes the Toyota Tacoma so unique. Of course, its distinctive Tow Package that includes a class IV receiver hitch and trailer sway control does not hurt, either. The Tacoma was not made to just look good. It was intended to perform well and tow efficiently, too. According to recent developments, it seems that the Toyota Tacoma has exceeded both goals.